UK Highway Code self-driving announcement sparks media uproar
In a major development for connected and automated mobility (CAM) in the UK, on 20 April 2022 the government set out changes to The Highway Code to move Britain "closer to a self-driving revolution".
The announcement, by Department for Transport (DfT), the Centre for Connected and Autonomous Vehicles (CCAV), and Trudy Harrison MP, Parliamentary Under-Secretary at the DfT, certainly had the wow factor.
Self-driving safety
The bullet points at the start stated the important overriding aim to "ensure the first self-driving vehicles are introduced safely on UK roads".
The planned changes to The Highway Code are therefore intended to "clarify drivers' responsibilities in self-driving vehicles, including when a driver must be ready to take back control".
Eyebrows were raised at the line: "While travelling in self-driving mode, motorists must be ready to resume control in a timely way if they are prompted to – such as when they approach motorway exits."
More hyperbolic self-driving headlines
But the announcement ran into real trouble with this: "The plans also include a change to current regulation, allowing drivers to view content that is not related to driving on built-in display screens, while the self-driving vehicle is in control. It will, however, still be illegal to use mobile phones in self-driving mode, given the greater risk they pose in distracting drivers."
The national press went into meltdown and we'll look at this in more detail in a special edition of Hyperbolic Self-driving Headlines. But it was enough to prompt senior CAM industry figures to come out in defence of the technology.
Edward Houghton, Head of Research and Service Design at DG Cities, took to Twitter to criticise a Guardian article – A self-driving revolution? Don't believe the hype: we're barely out of second gear – for significantly playing down where self-driving R&D is in the UK and for failing to acknowledge its potential to improve road safety.
List of cars approved for self-driving
Back to the announcement itself. This section is worth rereading: "Britain's first vehicles approved for self-driving could be ready for use later this year. Vehicles will undergo rigorous testing and only be approved as self-driving when they have met stringent standards."
What does that actually mean? Ever astute, Barrister Alex Glassbrook, who last year expressed real doubts about proposed changes to the Highway Code, took to Linkedin to highlight the launch of a new government webpage for "Self-driving vehicles listed for use in Great Britain".
At the time of publication the page lists, er, no vehicles. However, it does include the line "You must insure your self-driving vehicle as self-driving".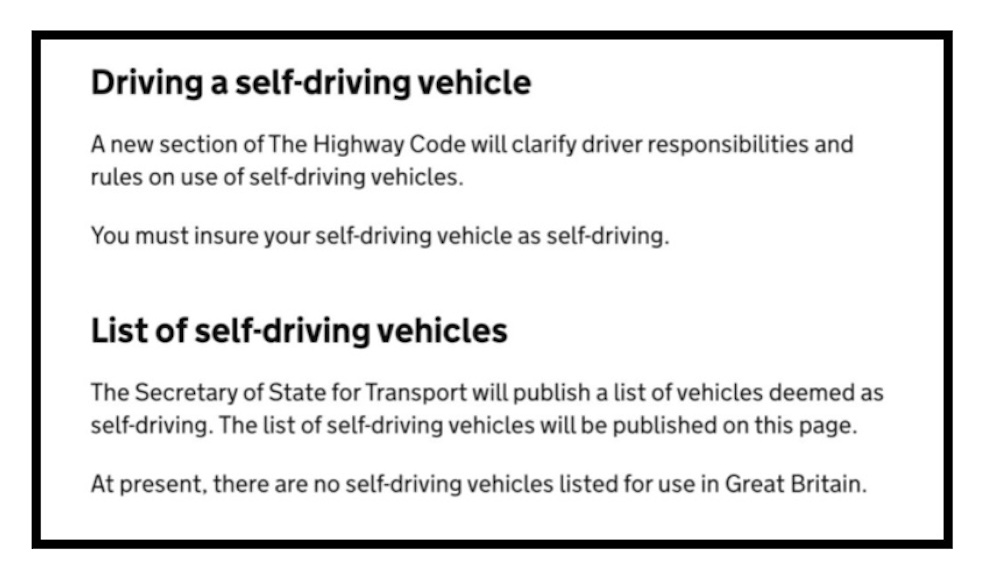 So, the question remains: Will cars equipped with Automated Lane Keeping Systems (ALKS) be the first to make the grade and be official recognised as "automated"?
Glassbrook also noted a 2025 target for having a full regulatory framework in place to support the widespread deployment of self-driving technology.
Official comments
The announcement – which asserted that self-driving vehicles could create 38,000 new, high-skilled jobs in Britain by 2035 – was accompanied by statements from Transport Minister Trudy Harrison, the RAC's Steve Gooding and the SMMT's Mike Hawes.
Transport Minister Harrison said: "This is a major milestone in our safe introduction of self-driving vehicles, which will revolutionise the way we travel, making our future journeys greener, safer and more reliable.
"This exciting technology is developing at pace right here in Great Britain and we're ensuring we have strong foundations in place for drivers when it takes to our roads.
"In doing so, we can help improve travel for all while boosting economic growth across the nation and securing Britain's place as a global science superpower."
Steve Gooding, director of the RAC Foundation, said: "The Highway Code has been updated a number of times in recent years. These latest additions will help us all understand what we must and must not do as we move forward to an environment where cars drive themselves.
"The final part of the jigsaw is to ensure these amendments are widely communicated to, ​and understood by,​ vehicle owners. Vehicle manufacturers and sellers will have a vital role to play in ensuring their customers fully appreciate the capabilities of the cars they buy and the rules that govern them."
Mike Hawes, Chief Executive of The Society of Motor Manufacturers and Traders, said: "Amending The Highway Code to reflect the pace of technological change will help clarify what motorists can and can't do when a self-driving feature is engaged, so promoting its safe use."
As you can imagine, there was reaction to the news from across the automotive industry, including the service and repair sector.
Neil Atherton, Sales and Marketing Director at Autoglass, rightly drew attention to the need for sensor recalibration.
"Much has been made of the dawn of fully autonomous vehicles, but in reality many of these technologies are already in our vehicles," he said.
"Advanced driver assistance systems (ADAS), especially the windscreen fitted sensors that monitor road conditions and hazards in real time, will need to be fitted in all new cars rolling off the production line later this year, and drivers and the wider automotive industry need to be ready to use and maintain them properly.
"Calibration and recalibration of these technologies is absolutely critical for their effective operation."